YOFC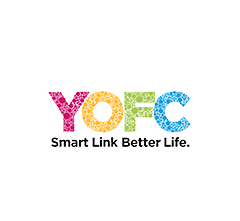 Yangtze Optical Fibre and Cable Joint Stock Limited Company (YOFC) (Stock Code: 601869.SH, 06869.HK) is a global leading provider of optical fibre perform, optical fibre and optical fibre cable. YOFC mainly produces and sells different types of optical fibre preforms, optical fibres and optical fibre cables that widely installed in telecommunications industry, customized specialty optical fibres and optical fibre cables, RF coaxial cables and accessories. YOFC also provides integrated systems, project design and services. In addition, YOFC is equipped with a full series of optical fibres, optical fibre cables and solutions, providing a variety of different products and solutions for world's telecommunications industry and other industries (e,g. Public utility, Transportation, Oil & Chemistry and Medication etc.) and offering its products and services to over 70 countries and regions around the world.
After 30 years of efforts, through the introduction, digestion, absorption and re-innovation of technology, YOFC has successfully transformed from an industry follower to an industry leader, driving the overall technological progress and industrial development. Meanwhile, YOFC was listed in Hong Kong Stock Exchange in December 2014 and in Shanghai Stock Exchange in July 2018, and is the only A&H shares dual-listed company in China's optical fibre and cable industry.
Adhering to the mission of 'Smart Link Better Life', YOFC devotes itself to becoming the leader in information transmission and smart links through its core value 'Client Focus Accountability Innovation Stakeholder Benefits', and builds its strategies in the following 5 aspects: Organic growth strategy of the preform, optical fiber and cable business; Strategy for technological innovation and smart manufacturing.